The response to my campaign to enlist anonymous volunteers to destroy marijuana (because the DEA can't do it themselves) has been so successful – with over 35,000 people already taking the pledge to search for, find, seize and destroy marijuana in controlled burns or using other techniques – that we feel that some of these volunteers deserve special honors for their sacrifice for keeping the local police and the DEA safe from hazardous materials.
We have set up a Wall of Honor to give recognition to those people who over the past year, have done so much to aid this campaign. All of them had been working on their own until they were able to join this organization. In fact, they were working on this campaign even before there was a campaign. Pretty impressive, huh?
ANNA F.
Destroyed 3.5-4 pounds in 2010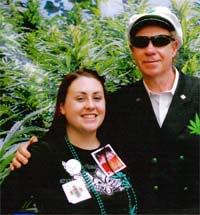 Anna's statement: "I am very honored to be inducted to the hall of flame. I couldn't do it without all the support of the people around me. If I am not destroying marijuana, I just finished or am I am getting ready to."
Anna does not destroy marijuana while she sleeps, contrary to unfounded reports.
MIKE D.
Destroyed 4-5 pounds in 2010 (conservative estimate)
Mike's Non-statement: "I haven't destroyed enough marijuana today so I am not ready to make a statement."
Mike has a very humble and calm demeanor although he is one of our hardest working agents. He actually started working on this campaign several decades before it was conceived.
If you would like to nominate yourself or someone else, please send the pertinent information: your real name (such John S.), a photo of you or simply your instrument of hazardous material destruction, and your statement. We will be happy to post you to the Anonymous Volunteer Wall of Honor.