Eddy Lepp is a Vietnam War Veteran and medical marijuana activist who grew medical marijuana for patients in Northern California. He gave away free marijuana to those who needed it most. In 2008 he was sentenced by Federal Judge Marilyn Patel to ten years in federal prison. Although he has been moved to other California prisons, he is currently in FCI Lompoc. He is expected to be released in 2018.
2010, Eddy in Lompoc FCI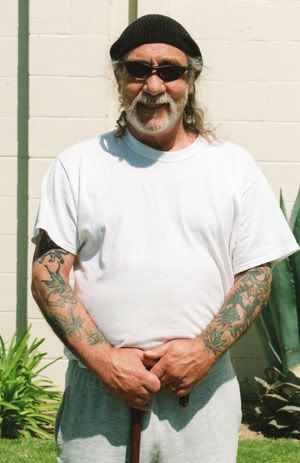 Please take a minute to write Eddy a letter and let him know you are following his story:
Charles Edward Lepp
FCI Lompoc
90157-011
3600 Guard Road
Lompoc, CA 93436
——-
Letter #3 from Eddy Lepp
Ed and Angela [Ed's Asst],
As I sit here waiting to be moved closer to the ones I love, I look back over the last three weeks and realize what a total WASTE the War on Drugs really is. They sent a new guy to us, he is 78-years-old. What threat is he to the safety of the American people??? He can barely walk but the drug laws say he must be here.
My neighbor is 70-years-old with 10-12 years left. He plans on dying here. All he does is play solitaire all day. Another serious threat to the safety of Americans. We lost another this week, I think but don't know for sure. He was only 90 days left from [release]and fell over in the gym after a heart attack. They never really tell us what happens [in these instances].
To those of us that go down, whether natural or a result of violence, we never hear. There are 1500 men here and we do nothing but play cards, read and exercise. I often wonder what 1500 men could [contribute to society]if given a chance. However, I am told its $30,000-$40,000 [tax dollars]a year to keep us here. But then I guess it is ok to close school and scale back social programs when you have so many non-violent first time drug offenders that are such a dire threat to our government.
I don't see how, but I suppose those we have elected can explain to me why my being in prison is more important than your child being in school. I CAN'T!!!!But then I am sure I am not the only one sitting here seeing the waste, puzzled by it all.
I am [just as]against the use of hard drugs as anyone, but 27 years for 57 grams, 18 years for being in the house with less than a gram– all this and more, millions of years have been given out in sentences. One out of every 33 [American] adults in the "Land of the Free" is in jail or prison on parole or probation. When will we realize it is not our job to judge or regulate human behavior??
As long as our actions harm only ourselves it is our business. The constitution [states]there can be no jailable crime without a victim and the victim must swear in court as to how you harmed him or his property– if not, no jail.
We must respect our ancestral liberators (Washington, Jackson, Franklin, etc). Remember [what]the War on Booze did for crime, allowing for the first time criminals to have real wealth ("all the better to buy power my dear," said the Big Bad Wolf). This allowed the purchase of our elected officials, judges, police, and etc.
One must wonder why those with the power to end this senseless war don't or wont!! Are they among those gaining wealth and power because of this war? If so who are the real criminals, who is really guilty of crimes against "we the people"?
Maybe you should ask yourself this stuff but then I'll bet you're just too damn busy trying to save your house from foreclosure, find or keep a job, or worried about your kid or another loved one being killed in this war most of us never wanted. Or maybe some other silly thing. Who knows, but sooner or later the insane War on Us (The Drug War) must be seen for what it is– a health problem, not a way to lock up most of the people in THE LAND OF THE FREE!!!
Respect All
Hurt None
Love One Another
Eddy Lepp
Lompoc Prison
9-25 AD 2010
California Republic