Imagine you were a diabetic and you had a prescription for insulin from one state and then when you were traveling to another, you were stopped and your medicine was seized because you did not have a valid prescription from the state you are in. It would make life pretty difficult.
Each time you traveled you would have to get a new prescription. This doesn't sound very healthy for patients. Just substitute marijuana for insulin and any marijuana patient for diabetic. If it doesn't sound right for a diabetic, it isn't right for a medical marijuana patient.
I was stopped in Oregon at the Medford airport in November of 2008 by an avid TSA inspector who obviously thought that the pot in the plastic bags in my carry-on was a bomb. Or else, why would they have pointed it out to the local cop, who acting under orders had consented to become a medical terrorist. You know what a medical terrorist is. It is somebody who doesn't denies a patient their medicine. So, this medical terrorist stopped me and seized my pot, and cited me.
Now I am not the worlds most litigious guy but I will stand up for my rights until the day I die.
I called a lawyer friend, Lee Berger, who is a great advocate of human rights and who concentrates a lot in the marijuana activism. He worked my case along with another one, David Kasakov of High Sierra NORML, both cases were eventually dropped in the interest of justice. Basically, once the prosecutor saw that he was going to be confronted by two activists, he caved. I went back up to Oregon this week and picked up my pot from the sheriff office cop shop. This was sort of a Pyrrhic victory because it didn't set precedent since the Oregon supreme court recently ruled against recognizing medical marijuana recommendations from other states.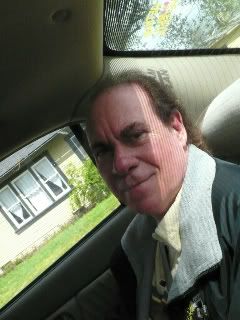 On my way to court!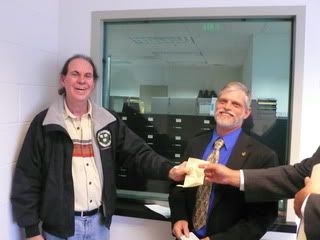 Looking over my citation with David (left) and Lee (right)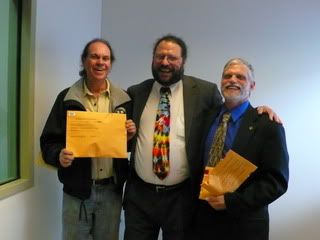 We retrieved the evidence!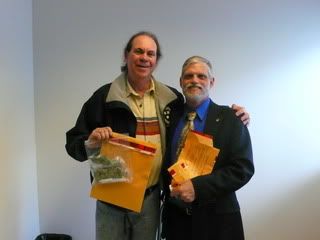 We got our pot!
Tony Serra, a great lawyer who is one of my mentors, once said that a lawyer is like a Viking warrior in Valhalla (Nordic heaven), who is restored to health to go out and fight again every day, and so it is with activists.
Just last weekend, on my way back to the Bay Area from Bob Hope airport in Burbank, CA I was cited for possession of marijuana, even though I had a valid recommendation. This time, noted marijuana attorney Bruce Margolin and I plan to set precedent and make it safe for California medical patients to carry marijuana when they travel by air. More on this as the case progresses.