In the late nineties, Will Foster was convicted of growing a 5×5 ft. marijuana garden in the basement of his Tulsa, Oklahoma home.
I testified at the trial and upon landing again in Oakland and getting in a car to go home, a radio program was discussing the Tulsa race riots of 1921, in which the entire black population of the city was either murdered or escaped. It was by far the most blatant example of ethnic cleansing ever perpetrated in the United States. The thought of what happened in Tulsa sent a shiver up my spine. Shortly afterwards, I learned that Will Foster was sentenced to 93 years in prison.
After spending four and a half years in prison, pressure from media attention and public outrage led the Oklahoma Supreme Court to release Will and parole him for a 20 year probationary period on the basis that a 93 year sentence was cruel and unusual punishment.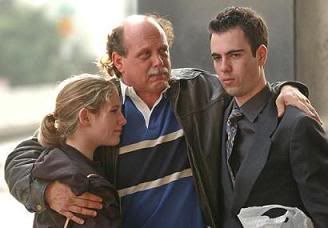 Will Foster at Ed's trial in 2003 with Ed's daughter Justine and son Nick
He was freed, and due to his degenerative arthritis, chose to move to California to escape persecution as a medical marijuana user. He was allowed to move to California as long as his probation was continued in California and he had a sponsor in the state, MOI. Will and his daughter Anna lived with me for almost a year. In that time he had established himself enough to get an apartment, find work, and renew his life. Three years went by and when it came time for California to renew his 12-year probation, the state decided that because California would never give a person more than three years probation for weed, they would not be extending the probation period. Oklahoma asked him to come back and he chose to remain in California, where he had established a life. He remained in communication with the Oklahoma authorities to try to work out a solution administratively that would keep him in California. Although the state of Oklahoma continued to issue warrants, they made no attempt of retrieving him.

Will's daughter, Anna
Can you imagine going back to Oklahoma and its strict marijuana laws, being watched, being tested, all while having degenerative arthritis which only marijuana soothed? For years, Will tried to negotiate with the Oklahoma authorities, all to no avail.
In October of 2005, an alarm went off in a property that Will was renting. He went to see what was going on and when the police came, an ID check showed that he had a probation warrant in Oklahoma. He was arrested solely on the probation charge. After sitting in jail for almost six months, the Sonoma Country judge, Judge Daum, upon reviewing the facts, decided that Will was complying with state law and that because Oklahoma had not come to extradite him, the matter was out of his jurisdiction and Will's case was dismissed. Will was released and renewed his life once more.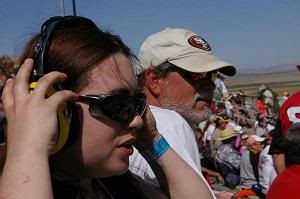 Will and his daughter, Anna
Imagine the disruption of being dragged away and placed in a state of suspended animation for months, everything is either lost or stored. All relationships are placed on hold and then, to be released back into life again after the state says "we didn't really mean it, sorry".
All was going fine until Will got into a really negative part of his relationship with a former lover who convinced local narcotics authorities and the DEA that they would find something big in a raid of his home. They didn't, what they did find was a medical marijuana garden in compliance with local and state guidelines and small amounts of other controlled substances in his home that may or may not have belonged to him. Will was arrested and then the issues of the Oklahoma warrant came up again.
What would have been a trivial case has become a life-threatening exercise in injustice. Will has been in jail for a year, awaiting trial. If he loses the trial, which includes mostly marijuana charges, the Oklahoma warrant is sure to come into play, and if he wins it may.

Will Foster
There are technical questions as to whether this new warrant is still subject to the judge's order, and whether Governor Schwarzenegger's signature on the warrant overrides the judge's discretion. A different judge than Daum will be deciding this case.
Beyond the health and well-being of Will, his case should be of great importance and concern not only to the medical marijuana community, but also any American taxpayer. Sonoma Country, California has been footing the bill for over a year to enforce not state or local laws in state hit exceptionally hard by the economic downfall, but the Draconian and extremist drug policies of the state of Oklahoma.
Along as being a friend and ally of the medical marijuana community, Will Foster is the poster child of how the criminal justice system is still locked in a mindset of hammering people with expensive and irrational jail sentences- regardless of personal circumstances- for the perpetration of a victimless crime.
This is where it stands folks, Will is in jail in Santa Rosa, CA and he needs your help.
There are several ways you can help him:
Courtroom dates and times will be posted at www.medicalmarijuanaofamerica.com. Donations to his legal defense are greatly appreciated. Make out checks to Chris Andrian, Atty. and mail to P.O. Box 196 Jenner, CA 95450
See also:
November Coalition, Green Aid