VOTE Matt Mernagh for MAYOR of #Toronto in the first poll of 2014…#TOpoli @Mernahuana already leading with 44%
Al Gore is at 3% and Rob Ford is only at 4% at the time of this blog.
Eight curious candidates who are running for municipal office in 2014, including Dimitri the Lover.
Today is the day people can start registering to run for office in the 2014 municipal election. Most of the favourites have yet to file their nomination papers, but already a few political hopefuls are starting to show up on the official candidate list. Who, aside from Rob Ford, decided to take the plunge on day one?
Matt Mernagh: Local writer and marijuana activist Matt Mernagh is also making a run at the mayoralty this year. He may have trouble differentiating himself from Rob Ford, who is likewise notably pro-weed (at least as long as he's the one doing the smoking).
Notable Tweets:
Daniel Dale @ddale86h: Noted marijuana activist Matt Mernagh (@Mernahuana) says he has registered to run for mayor.
RobFordAngry @RobFordAngry: This city could never elect a drug using mayor like @Mernahuana #TOPoli
Dr. Meat @charenton: IT'S HAPPENING! Toronto mayor Rob Ford files re-election papers, Also @Mernahuana filed, which is way cooler #TOpoli
Russell Barth @Russell_Barth: @Mernahuana may be only one tenth @TOMayorFord's size, but he has ten times more integrity.
P.A.C.E @PACE_ag: I see #cannabis #marijuana #weed #pot #medicalmarijuana #ganja #420 advocate @Mernahuana registered 2 run 4 Mayor of #Toronto #TOpoli
Tracy Lamourie @TracyGoddess3: Well I know who I'll be voting for as Mayor of Toronto in 2014!!! Matt Mernagh is running against Rob Ford!
Matt Hudson @Hudsonrulez: @patrickmcguire hey did you know @Mernahuana is also running for mayor! We need tokers not crack smokers on council! pic.twitter.com/wJ94KN7q4T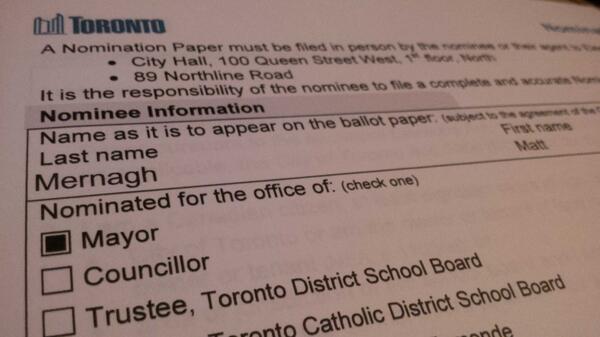 @Mernahuana
Purchase Matt Mernagh Marijuana Smoker's Guidebook The Easy Way To Identify and Enjoy Marijuana Strains from Amazon or Indigo. Matt Mernagh #topoli #mayor #2014