Eddy Lepp is a Vietnam War Veteran and medical marijuana activist who grew medicine for patients in Northern California. He gave it away free to those who needed it most. In 2008 he was sentenced by Federal Judge Marilyn Patel to ten years in federal prison. Although he has been moved to other California prisons, he is currently in Lompoc Federal prison camp. He is expected to be released in 2018.
Ed was and remains denied from visiting Eddy due to his felony conviction in 2003. Angela (Ed's assistant) visited Eddy in October but since he has moved to the camp, she has been barred from visitation and the prison has "no record of her visit". Eddy is in the appeals process with the Bureau of Prisons to get her re-approved for visitation.
PLEASE WRITE EDDY, your congressperson or donate to his defense fund at www.green-aid.com.
If you do not have money to donate to Eddy's defense, please help by passing the donation information along to someone who does!
Please take a minute to write Eddy a letter and let him know you are following his story:
Charles Edward Lepp
Federal Prison Camp Lompoc
90157-011
3705 West Farm Road
Lompoc, CA 93436
---
Dear Ed and Angela [Ed's assistant],
I suppose it's time for me to write. I should start by telling you about the endless counts and countless breath tests that started around Thanksgiving till last night (I am sure they won't stop soon).
They are called "special counts" where we must stand by our bed until they count us. Sometimes we are there for several hours while they count, as a way to hold us while they tear the rest of the camp apart looking for booze, drugs, cell phones, tobacco, porno books, etc.
They must have been afraid some were going to run home, or get drunk, or celebrate New Year's… but honestly the whole time I have been down here (almost 20 months now), there have been no escapes and only two guys fail the breath test.
When they get tired of that they search out lockers and bed area in case we have an extra shirt with paint on it or an extra blanket with holes in it. Almost every blanket in the camp is torn, frayed or ripped. We are issued what the Bureau of Prisons (BOP) refers to as "serviceable" equipment. T-shirts that might have once been white (now a sick, dingy gray) are common. The mattresses are so old and worn out, they appear to be leftovers from World War II, as do the bunk beds we sleep (or not) in. Every time your bunkie moves, rolls over, gets up, etc, the whole bed moves and if you move at all, but you must be doing the same to him.
We all have lockers, 3 feet tall. We are expected to fit 3 shirts, 3 pants and about 4 t-shirts, 4 shorts and 4 pairs of socks in there with anything else we own. If you leave anything out the officers take it and throw it away or return it to the laundry. This is hard because we have to buy a lot of our food. They do not feed us well, nor do they feed us enough.
This system really needs to be looked at and re-vamped, it not only fails the inmates and BOP personnel, but sadly the ones it fails the most are the people who are paying for it– YOU THE TAXPER!!!
So I sit here hoping someone in charge will see what a failure and a waste of life this current system is and will care enough to fix it. People who create victims belong in prison, they should send the rest of us home. "No Victim, No Jail-able Crime" (that is from the U.S. Constitution).
But then, the government seldom does what is best or right fo us the survivor-citizen.
Anyway,
Love you all, I will write soon.
-Eddy Lepp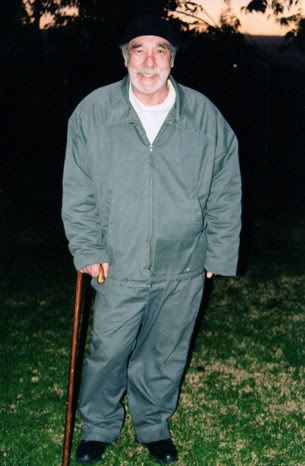 Photo sent from Eddy 1-21-2011